Amazon FBA and Value Added Tax
Fulfillment by Amazon (FBA) is a service that many retailers on Amazon Marketplace can no longer do without. FBA means that Amazon takes care of all the logistics, including the processing of returns. This is convenient, but also entails great financial risks.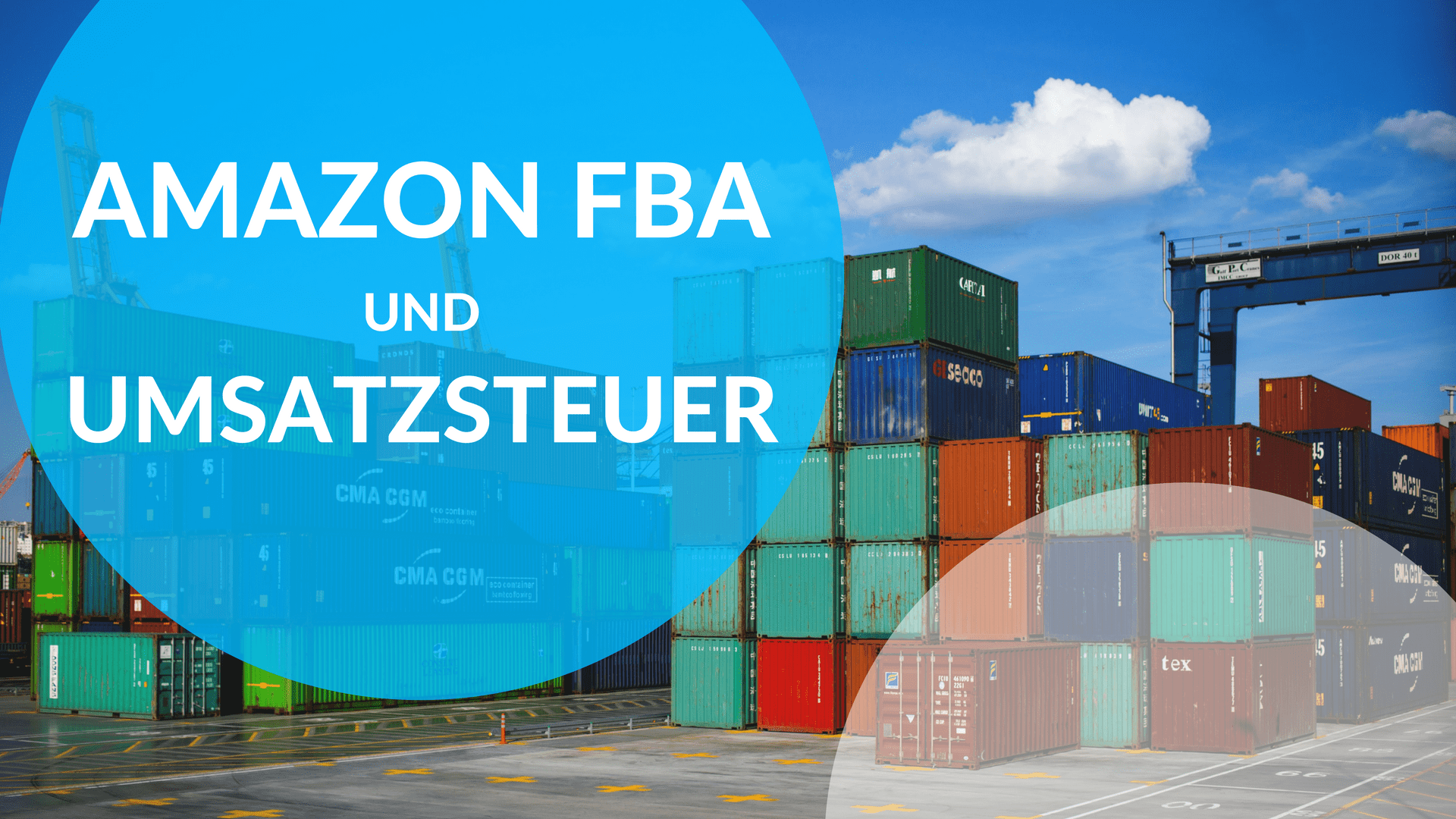 One of the biggest challenges that Amazon FBA brings with it for you as a retailer is the so-called Value Added Tax compliance. This term refers to the fulfilment of all obligations that VAT law entails for traders.
Value Added Tax-obligations for FBA traders in the home country
In your home location or "country of domicile" you have to comply with some tax obligations, because as soon as you sell your goods via Amazon as an Amazon FBA merchant, you are an entrepreneur from a VAT perspective. The following points go hand in hand with this:
Registration with the tax office as an entrepreneur for turnover tax purposes
Regular submission of advance VAT returns
Annual submission of annual VAT returns
For B2B sales to other EU countries: Submission of recapitulative statements
The period for submitting advance VAT returns is generally the quarter. However, there is one exception to this rule: If the Value Added Tax on your sales in the previous calendar year was more than 7500 euros, you are obliged to submit advance returns even on a monthly basis. Special regulations apply to start-ups.
If your movements exceed certain value limits, you must additionally and regularly submit so-called intra-trade statistics (Intrastat) to the Federal Statistical Office. These statistics record your movements of goods within the EU for statistical purposes. This obligation also applies in most other EU countries. The Federal Statistical Office offers a collection of FAQs on this page.
You can read more about Intrastat here.
These tax procedures at the home location should be very familiar to the already active traders among you.
If you use FBA, however, you will most likely have tax obligations abroad. Why?
The lowest fees for the FBA programme are only offered by Amazon if your product storage and deliveries are handled via foreign warehouses – currently mainly in Poland and the Czech Republic. This cross-border use of warehouses is currently a major problem for many FBA merchants.
FBA Storage Abroad 1: You Need Foreign Tax Numbers
As soon as you, as a Amazon-FBA trader, use a foreign warehouse of Amazon for storing and shipping your goods, you are obliged to register for VAT in this country.
For example, if you use the Central Europe Expansion (CEE) programme from Amazon , which allows you to store goods in Germany, Poland and the Czech Republic, you must also register for VAT purposes in these countries.
If you transport your goods between different Amazon warehouses, or if Amazon does this without your intervention, the following reporting obligations arise from a VAT perspective:
Tax-free intra-Community transfer in the country of departure of the goods
Intra-Community acquisition in the country of destination of the goods
These are so-called "fictitious deliveries" from a VAT perspective. However, there is a great risk for you as an online trader if you do not comply with your VAT obligations in connection with these transfers of goods, because since 1 January 2020 these fictitious transactions are automatically subject to tax.
This would mean that you would have to pay Value Added Tax for shipments of goods for which no money is ever received, as these are so-called "fictitious sales" for VAT purposes.
This means that you must follow the steps below before your first movement of goods:
You need a local tax advisor who can submit your returns and documents to the local tax office.
For registration, various forms (e.g. the registration form) must be filled out and various documents must be submitted to the tax authorities, such as the extract from the commercial register, the original company certificate. These must be sent to the tax advisor so that they can be submitted to the local tax authorities.
Only after submitting the documents to the local tax authorities and receiving your valid VAT ID in the respective country can you move your goods from Germany to a foreign Amazon warehouse without risk from a tax perspective.
After you have received your VAT registration in the respective country, you are obliged to submit VAT returns on a regular basis.
This requires you to set up an appropriate Value Added Tax compliance process to avoid potential penalties, such as late filing penalties.
FBA storage abroad 2: You have to file regular reports and issue pro-forma invoices
Whenever a trader permanently transports an item to another EU country – or has it transported by Amazon – this constitutes a supply by the trader to himself. This supply is tax-free.
However, the trader must declare this delivery in his Value Added Tax preliminary declaration and a special declaration, the so-called Recapitulative statement (ZM)in his home country (e.g. Germany).
He is also obliged to issue an invoice for this transfer. Since he issues this invoice to himself and there is no "actual" transaction with third parties, it is called a pro forma invoice.
In addition, the trader in the country of the warehouse (e.g. Poland) must declare the receipt of the goods as a so-called intra-Community acquisition in his Polish Value Added Tax advance return. This acquisition is generally subject to VAT.
At the same time, however, the trader can have the Value Added Tax from this purchase refunded (input tax deduction). This procedure leads to a balance of Value Added Tax and input tax of zero – an actual payment is therefore not necessary.
However, the tax administration in Poland knows through this procedure that the trader has brought goods to Poland in order to sell them from there.
Note: The use of foreign Amazon warehouses and the VAT reform, which will come into force on 01.07.2021, will increase the complexity of your Value Added Tax obligations. Get an overview in our OSS Special with extensive FAQ.
Amazon FBA sales abroad cause Value Added Tax obligations: Registrations, VAT-IDs, notifications
If you send your goods from Germany to private customers in other EU countries, you must observe various VAT regulations. Due to the major VAT reform on 01.07.2021, a distinction must be made between the VAT regulations that apply up to and including 30.06.2021 and the regulations that apply to sales from 01.07.2021 onwards.
Sales to other EU countries until 30.06.2021
For sales of goods from Germany to private customers in other EU countries, the so-called mail order regulation applies until 30 June 2021, which should avoid small and medium-sized enterprises having to register for VAT in the receiving country from the first euro of turnover.
Therefore, delivery thresholds were introduced within the framework of the mail order regulation. Until these delivery thresholds are reached, online traders may continue to pay tax on their cross-border deliveries within the EU in their home country.
This means, for example, that even in the case of a sale to a French customer, German Value Added Tax will be shown on the invoice and the sale will be reported in the German advance VAT return if the delivery threshold for France has not been exceeded. Consequently, the application for a French VAT ID could be avoided.
However, if your sales abroad are so good that the local delivery thresholds are exceeded by 30 June 2021, all transactions are taxable in the receiving country from the sale that led to the delivery threshold being exceeded.
Conversely, this also means that you must apply for a VAT ID in the country of receipt of the goods in order to be able to fulfil your tax obligations.
These VAT obligations include, but are not limited to, the following:
Calculation of Value Added Tax for the respective country of VAT registration
Regular submission of turnover tax returns (e.g. advance turnover tax return)
If applicable, submission of annual VAT returns
Until 30.06.2021, the need for a foreign VAT ID for your EU-wide FBA sales therefore depends largely on whether the local delivery threshold is exceeded in the receiving country.
Further details on the regulations until 30 June 2021 can be found in this blog post.
Sales to other EU countries as of 01.07.2021
From 01.07.2021, the previously existing mail order regulation for sales to private customers in other EU countries will change fundamentally. The new VAT regulations, which will come into force on 01.07.2021, provide for the elimination of all national delivery thresholds.
The local delivery thresholds will be replaced by a uniform, EU-wide delivery threshold of 10,000 euros net. The vast majority of FBA merchants with foreign shipments will quickly exceed this threshold. As a result of the abolition of the local delivery thresholds, you will regularly have to pay tax on your sales in the country where the end consumer is located.
You can find all the details on the new VAT regulations from 01.07.2021 in our big OSS special, as well as additional background information for Amazon traders in the blog post here.
B2B sales abroad via Amazon FBA
As a Amazon FBA merchant, you can also sell your products to other entrepreneurs (B2B) in other EU countries. If this is the case, the above principles are not relevant.
If you sell goods to foreign traders, these sales are generally taxable in the country of departure of the goods (i.e. where you are shipping from), which means that in these cases you do not have to worry about registration abroad.
Audit by tax offices
But is it at all noticeable if you simply (continue to) tax your Amazonsales completely in Germany? Even the failure to register is no longer a trivial offence in all EU member states. Most states demand high penalties and interest on arrears in such cases, which alone can often exceed the amount originally owedValue Added Tax .
In addition, the potential for discovery is increasing. The following examples show how creative the tax authorities are in this regard:
The German tax authorities use an internet crawler called Xpider to search specifically for traders who do not pay their Value Added Tax properly.
The highest German tax court, the Federal Fiscal Court, has already decided in 2013 that tax offices may also obtain collective information from marketplaces such Amazon as eBay. In the case to be decided, the tax office had asked for a list of all traders who turn over more than 17,500 euros / calendar year and are therefore obliged to Value Added Tax pay.
In Austria, it is even regulated by law(§ 27 para. 6a öUStG) that tax offices may obtain information from parcel service providers in order to filter which foreign traders send goods to Austria and thus presumably exceed the delivery threshold.
The Danish tax authorities analyse credit card transactions for this purpose.
Once the tax authorities have discovered that the Value Added Tax has not been properly paid, criminal tax proceedings are often opened. It is then no longer possible to make an exempting voluntary declaration. Nor can you point to the fact that you were not aware of foreign VAT law. As an entrepreneur, you are always obliged to inform yourself in advance about your tax obligations.
Don't let it get that far! You can automate almost all your Value Added Tax duties easily and sustainably.
The Taxdoo solution: Automated Value Added Tax compliance
Value Added Tax Compliance for traders is either time-consuming (if you want to keep track of everything yourself) or expensive (if all activities are taken over manually by a tax advisor).
Taxdoo automates the required VAT processes within the framework of Amazon FBA.
Taxdoo can automatically read raw data from marketplaces (e.g. Amazon), ERP systems (e.g. Afterbuy, Billbee, Plentymarkets, JTL or Xentral) and shop systems (e.g. Shopify) and
Create accounting exports,
handleforeign registrations for you
report your sales abroad,
Completely collect and preparedata for OSS messages,
document shipments, and
much more.
For each product and each EU state, Taxdoo can also automatically determine the correct tax rate.
For tax obligations in other EU countries, all VAT-relevant reports can be automatically taken over from 79 euros per month and per EU country: from one source through Taxdoo.
Simply click here to arrange a live demo, where we will be happy to explain the benefits of our automated Value Added Tax compliance to you and/or your tax advisor in person and answer any questions you may have.